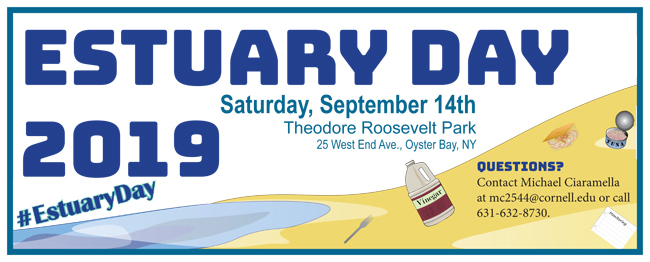 Long Island Estuary Programs come together on September 14th to celebrate natural resources and kick off National Estuaries Week.
Contact: Jimena Perez-Viscasillas, New York Sea Grant's Long Island Sound Study Outreach Coordinator, E: [email protected], P: (631) 632-8730
Stony Brook, NY, September 10, 2019 – The local community is encouraged to take part in the second annual Long Island Estuary Day, a celebration of the unique coastal water bodies where freshwater from rivers and streams mixes with salt water from the ocean. The event, which is free and open to the public, will be held on Saturday, September 14, 2019 from 11 am-2 pm at the Theodore Roosevelt Park, located at 25 West End Ave., Oyster Bay, NY.
This year's Estuary Day – to be hosted by the Long Island Sound Study (LISS), South Shore Estuary Reserve, and Peconic Estuary Program, with support from New York State Department of Environmental Conservation Commissioner Basil Seggos, New York State Secretary of State Rossana Rosado, New York Sea Grant, Friends of the Bay and The WaterFront Center – will focus on marine debris and its impacts on the environment. Program updates will be provided at www.nyseagrant.org/estuaryday2019 and via social media posts using the hashtags #EstuaryDay and #EstuariesWeek.
With a mission of fostering environmental stewardship and awareness in the community that will help create a clean and sustainable future, the event is an opportunity for its organizers and partners to recommend "what you can do" to help make a difference. These include environmentally sound practices like the ones LISS detail at longislandsoundstudy.net/get-involved/what-you-can-do.
A variety of family-friendly activities will take place throughout the day, including beach seining, beach combing, crafts, boating, and educational lectures about marine debris and Long Island. In addition to the main Estuary Day event from 11am-2 pm, Friends of the Bay is hosting an organized beach cleanup from 8 am to Noon at Beekman Beach. Estuary Day guests can also join The WaterFront Center for a sail aboard Christeen from 2 to 4 pm.
The event will kick off National Estuaries Week and celebrate the beauty and natural resources of Long Island's important estuaries. National Estuaries Week is a nationwide celebration of our bays and estuaries and the benefits they provide local communities. Dozens of organizations throughout the country host events to celebrate National Estuaries Week. This year, National Estuaries Week takes place September 14th through the 21st. Restore America's Estuaries, the Association of National Estuary Programs, and the National Estuarine Research Reserves Association partner together to promote National Estuaries Week on a broad scale. More at estuaries.org/get-involved/new.
Organizations participating in this year's event include Citizens Campaign for the Environment, Atlantic Marine Conservation Society, U.S. Geological Survey, Hempstead Harbor Protection Committee, Peconic Baykeeper, Coastal Research and Education Society of Long Island, Coastal Steward Long Island, Group for the East End, Coalition to Save Hempstead Harbor, Manhasset Bay Protection Committee, Cornell Cooperative Extension Nassau County, Riverhead Foundation for Marine Research and Preservation, Audubon New York, Town of Oyster Bay, and North Shore Audubon Society.

September 2018 brought a first-collaborative Estuary Day event for Long Island that helped bring awareness of estuarine benefits to local community members.
Estuary Day In Their Words
New York State Secretary of State Rossana Rosado, Chair of the South Shore Estuary Reserve Council, said, "Long Island's shores and waterways are among New York's most valued treasures, attracting millions of visitors annually that support the Long Island economy. This event provides an opportunity for families across Long Island to learn about their local environment and ways they can help to protect it for future generations."
DEC Commissioner Basil Seggos said, "New York's estuaries are a critical part of the life cycle of many different species, providing a unique place for marine species to live, feed, and reproduce. Long Island Estuary Day is a great opportunity to highlight the State's ongoing efforts to preserve and protect these species by helping to educate the public and providing New Yorkers with a hands-on experience. We encourage Long Island residents to come out and enjoy a fun-filled day learning about New York's estuaries."
EPA Regional Administrator Peter Lopez said, "Long Island is home to many important estuaries, one of the most productive habitats on the planet. EPA is proud to partner with New York State and Long Island communities to highlight what government and citizens can do to reduce nitrogen and other pollutants to improve water quality while protecting the recreational and commercial value of the Island's waters."
Director of the Peconic Estuary Program Joyce Novak said, "Estuary Day is a wonderful opportunity for the three Long Island programs to communicate the major water quality issues facing Long Island coastal waters, and the Peconic Estuary Program is delighted to be involved in its second year. The on-going development of solutions and bringing awareness to issues like marine debris in our waters is significant to the future of these waterbodies and Long Island communities. We are grateful to the Waterfront Center for hosting this event and we are looking forward to an educational and fun day!"
Director of New York Sea Grant Becky Shuford said, "Sea Grant is pleased to be able to support this year's Long Island Estuary Day. In our mission to 'Bring Science to the Shore' in the State, we have the privilege to work with partners and communities in all of Long Island's storied estuaries – Peconic, the Sound, and South Shore. This annual event, part of the National Estuary Week celebration, serves as an important, and fun, way to engage and educate children and adults alike about these ecosystems and the benefits they provide; and to build knowledge about sustainable practices that we can implement in our daily lives to ensure the health and productivity of these environments for now and the future."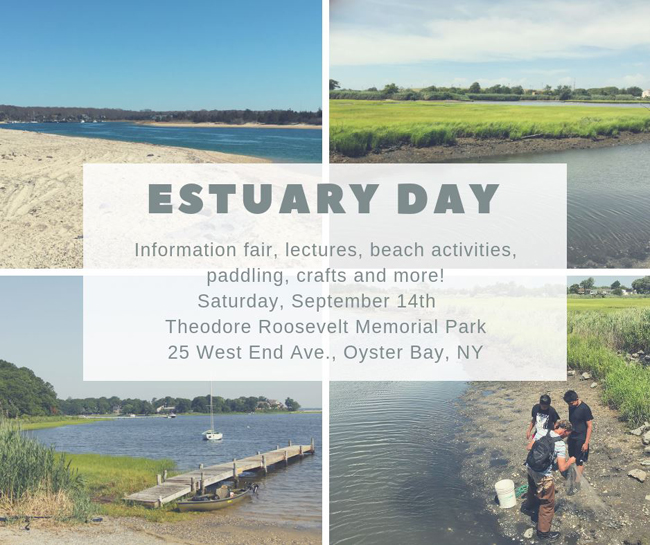 More Info: Estuary Programs
The Long Island Sound Study was formed by Connecticut, New York, and the EPA in 1985. This is a bi-state partnership consisting of federal and state agencies, user groups, organizations and individuals dedicated to nitrogen reduction, habitat restoration, public involvement and education, and water quality monitoring.
Formed in 1993, the Long Island South Shore Estuary Reserve Act established the Long Island South Shore Estuary Reserve (Reserve). Supported by the New York State Environmental Protection Fund, the Reserve is administered by the New York State Department of State in cooperation with the Long Island South Shore Estuary Reserve Council (Council) and the Citizen Advisory Committee comprised of State and local governments, non-profit and academic organizations and other local stakeholders.
The Peconic Estuary received designation as an "Estuary of National Significance" by the U.S. Environmental Protection Agency (EPA) in 1992, and the Peconic Estuary Program, a collaborative partnership of local, state, and federal governments, citizens, environmental groups, businesses, industries, and academic institutions, was established. The Peconic Estuary Program is one of 28 National Estuary Programs around the country supported by the U.S. EPA's Clean Water Act.
More Info: New York Sea Grant
New York Sea Grant (NYSG), a cooperative program of Cornell University and the State University of New York (SUNY), is one of 33 university-based programs under the National Oceanic and Atmospheric Administration's National Sea Grant College Program.
Since 1971, NYSG has represented a statewide network of integrated research, education and extension services promoting coastal community economic vitality, environmental sustainability and citizen awareness and understanding about the State's marine and Great Lakes resources.
Through NYSG's efforts, the combined talents of university scientists and extension specialists help develop and transfer science-based information to many coastal user groups—businesses and industries, federal, state and local government decision-makers and agency managers, educators, the media and the interested public.
The program maintains Great Lakes offices at Cornell University, SUNY Buffalo, SUNY Oswego and the Wayne County Cooperative Extension office in Newark. In the State's marine waters, NYSG has offices at Stony Brook University in Long Island, Brooklyn College and Cornell Cooperative Extension in NYC and Kingston in the Hudson Valley.
For updates on Sea Grant activities: www.nyseagrant.org has RSS, Facebook, Twitter, and YouTube links. NYSG offers a free e-list sign up via www.nyseagrant.org/nycoastlines for its flagship publication, NY Coastlines/Currents, which is published quarterly. Our program also produces an occasional e-newsletter,"NOAA Sea Grant's Social Media Review," via its blog, www.nyseagrant.org/blog.